XP68-02 offers you useful 68pin PLCC FPGA module of Xilinx high performance FPGA Spartan-3AN.
It's very compact size so you can use XP68-02 in universal board by using PLCC socket.XC6VLX550T-1FF1759I Only one 3.3V single power supply is required. There are 50 user I/Os divided into two Vcco groups, an oscillator and LEDs on it. Spartan-3AN FPGA family has integrated In-System Flash memory for itself configuration.
Top Side
Bottom Side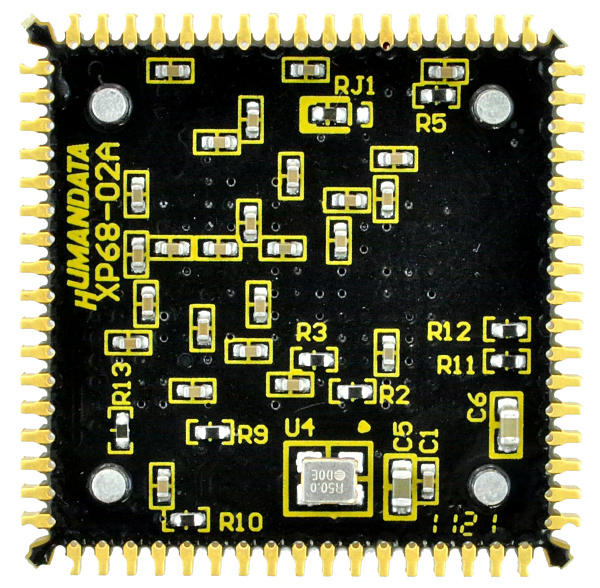 With PLCC socket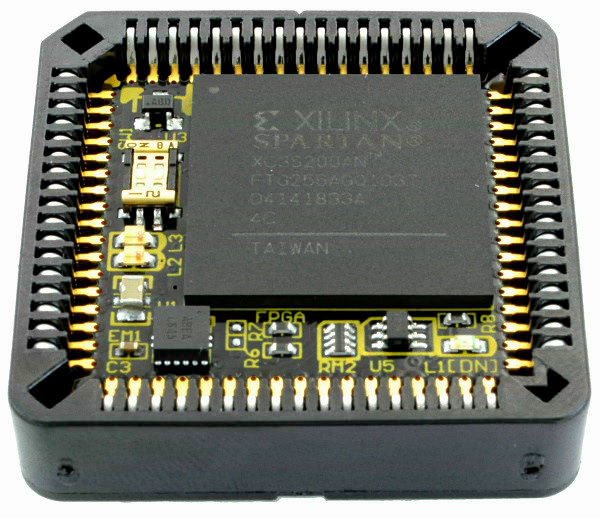 Specifications
Xilinx XC3S200AN-4FTG256C

Feature
XC3S200AN
System Gates
200
Logic Cells
4,032
Maximum Distributed RAM Bits
28
Total Block RAM Bits
288
Maximum user I/O pins(Device)
195
Maximum user I/O pins(

Board

)
50
Multipliers
16
DCMs
4
This table is for reference. Please refer to official datasheets for certain information.
PLCC 68pin package
3.3 V single power supply operation with on-board 1.2 V regulator
Separable VCCO (VIO(A) and VIO(B))
On-board Oscillator, 50MHz
One User Switch (Slide x1)
Two User LEDs (Red)
One Status LED (Config Done:Green)
Power-on Reset IC for stable FPGA configuration
High quality six layers PCB(Immersion gold)
Compact PLCC size 25.3 x 25.3 mm
Tested all I/O
RoHS compliance